Our Care Team
Bridget - Operations Manager
Bridget is our Operations Manager. She has worked in the dental field for over 19 years. In 2004 she graduated from the Dental Assisting Program at Madison Area Technical College, Madison, WI, Bridget has experience in both dental assisting and working at the front desk. Bridget is an active member of the American Association of Dental Office Management: AADOM
In her spare time, Bridget enjoys spending time with her husband Mike and their 4 children: Rayne, Zander, London, & Lexis
---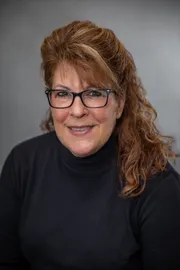 Julie - Financial Coordinator
Julie is our Financial Coordinator. She has enjoyed working in the dental field for over 23 years and feels that working with patients one -on-one with their treatment plans, insurances and scheduling their appointments is a great way to really get to know them.
Julie and her fiancé, Steve enjoy their five children.
Randy (Jacque), Nick (Amanda), Charlie, Katie (Nick), and Emma and their eight grandchildren Carter, Cassidy, Audrina, Gloria, Aria, Rayna, McKayla and Evelyn.
They love camping together, traveling the states, and finding treasures at antique stores and flea markets.
"Ah, and there's nothing better than a good cup of coffee and a great book to read, or a glass of fine wine with family and friends. Relax, smile, and enjoy life to the fullest."
---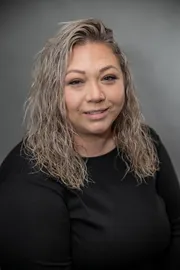 Jessica - Administrative Assistant
Jessica has been working in the dental field for over 18 years. She enjoys learning new advances in dental/medical technology and equipment.
Jessica was born and raised in Whitelaw. She graduated from Valders High School and currently resides in the Reedsville area with her husband Justin, their son Keltyn, and niece Izzy. As a family they enjoy camping, fishing, traveling, and time with family and friends.
"I am extremely grateful for the friendships I've gained working within the dental community and look forward to making more."
---
Tracy - Dental Hygienist
Tracy has been in the dental field since 1995, first as a Certified Dental Assistant then continuing her education in dental hygiene. She graduated from Northeast Wisconsin Technical College as a Registered Dental Hygienist in 1999. She worked with Dr. Dale DeSteffen for 16 years since graduation and has worked with Dr. Hansen at Two Rivers Family Dental ever since.
Tracy brings a wealth of knowledge and experience to our dental team, having worked in all aspects of dentistry. "The favorite part of my profession is working one-on-one with patients to improve their oral health and building trusting, friendly relationships. I have found that people love my 'down to earth' approach with personality and a gentle touch.
Tracy has two children of her own, her puppies Oreo and Luna. She lives in Luxemburg and enjoys fishing and boating with friends, going to Packer games, attending concerts, or just spending weekends up north.
---
Lisa - Registered Dental Hygienist
Lisa has been working in the dental field for 24 years. She was a dental assistant for 11 years before she furthered her education at Northeast Wisconsin Technical College and received her dental hygiene degree in 2004.
She was employed with Dr. Loritz for nine years and has since been working with Dr. Chris Hansen.
"It's been nice to see familiar faces in a new environment and I know my patients have appreciated that as well," Lisa says. "I enjoy meeting new patients and helping educate them about their oral health needs and the best way to keep their smiles beautiful."
Her husband Dan and she have 3 grown children: Christopher, Ashley, and Matthew. They also have two golden retrievers, Brady and Bella. She enjoys walking her dogs, hiking with her husband, biking, snowshoeing, going on roller coasters, traveling, and attending Green Bay Phoenix women's basketball games.
---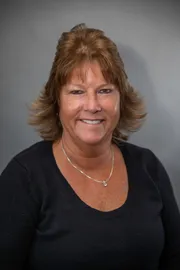 Barb - Registered Dental Hygienist
Barb has been in the dental field since 1993--first as a dental assistant then she continued on to become a dental hygienist. She worked with Dr. Hansen, then married, had a daughter, Gabriel, and moved to South Carolina for 18 ½ years. She recently moved back to the area so their daughter could attend the University of Wisconsin-Madison.
Barb is born and raised in Two Rivers.
Her family enjoys many activities in the area including biking, Packers, Badgers, Bucks, and the Brewers.
---
Heidi - Registered Dental Hygienist
Heidi grew up in Northeast Wisconsin, in the very small town of Suring. There she learned to hunt, fish, garden, snowmobile, log wood to make firewood, basically be an outdoors girl.... because that's how she grew up. She currently lives in Green Bay. Heidi has been a dental hygienist for over 24 years and says, "I still absolutely love it!" I have worked with Dr. Hansen in the past, when he worked in the Green Bay area. I love being around people, building relationships, and helping them along their journey to achieve a healthy smile."
Heidi and her husband Tim have two beautiful daughters, Brinley and Addison. She is very much into health and fitness. She is active at their local church. She loves doing anything crafty like painting, decorating a birthday cake, and making sidewalk chalk pictures with her girls. She loves live music and loves to play piano and sing. She loves dinner parties and game nights. She is not competitive at all! She likes to experiment with new recipes, games, and adventures.
"It's always fun meeting people and learning new things about a small community. Heidi feels it really comes down to making a person feel comfortable with everyone they encounter to make a great experience. Dr. Hansen and Dr. Meunier have an excellent team and I am happy to be part of it!"
---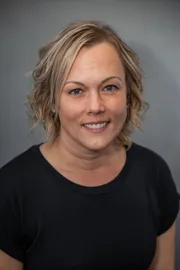 Missy - Dental Assistant
Missy has been a dental assistant since 2002. She is proud to be part of the Two Rivers Family Dental team. She enjoys working with people and likes being able to help them feel better about the appearance and health of their smile. Missy and her husband John, have 4 children, 3 grandchildren, a dog and a cat. When they are not at an ice rink or a ball diamond, they enjoy spending time with their family outdoors and staying active.
---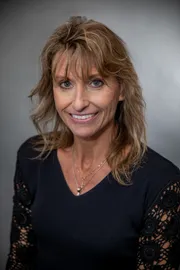 Allisen - Dental Assistant
Allisen is another one of our great dental assistants. She is also our sterilization technician. Allisen is a graduate of Roncalli High School and also a graduate of Lakeshore Community Technical College, Dental Assisting program. Allisen and her husband live in the Manitowoc area. Together they have one daughter and one grandson. Outside of the office Allisen enjoys time at their family cabin, and spending time with their dogs. Allisen also enjoys traveling, including dental missions in Haiti.
---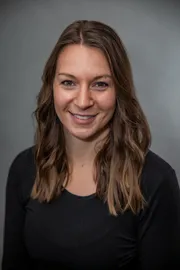 Stephanie - Dental Assistant
Stephanie has been working in health care for 5 years. After completing training at Lakeshore Technical College, she joined our team as a Dental Assistant.
She grew up in Southern Wisconsin. After graduating from Oconomowoc High School in 2012, she completed a 5-year term of service in the United States Navy. Following her separation from service, she decided to settle down with her husband, in Manitowoc. In her spare time, Stephanie loves being outdoors with her dog. She spends anytime that she can on the water or hiking and admiring nature.
"I love health care, because not only is physical health important, but I also get the chance to spend time making a positive difference in a patient's day," she says, "The quality of the time you spend with your patients creates a mutual respect and trust. That's my favorite part of my job."
Stephanie looks forward to continuing her education in the dental field as a student at Northeast Wisconsin Technical College.
---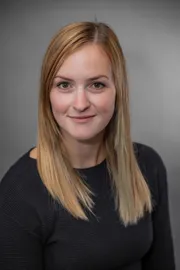 Megan - Dental Assistant
Megan was born in Green Bay, WI but was raised in Austin, TX. A few years ago, she moved back to Wisconsin to be closer to family. Megan has been a dental assistant for 2 years and enjoys it very much! Megan is truly amazed at how going to the dentist can transform your smile, and she loved to be a part of the transformation. She loves the teamwork aspect of her job! When not at the office, you will find Megan exploring with her fiancé and two boys.
---